At Woodward Development and Construction, Inc. we make collaboration between our agents the rule, rather than the exception. We believe that by working together, no opportunity is missed. You can achieve your commercial real estate goals with the help of our team of professionals.
Evan Beck, Managing Broker
Licensed in Indiana and Kentucky

812-474-1900 x114

ebeck@woodwardrealty.com

Evan is the Owner and President of Woodward Commercial Realty, Inc. and Woodward Development and Construction, Inc. Previously, he was Vice President of Development and Partner at the firm. He serves on the Board and as an Executive Committee Member of the Economic Development Coalition of Southwest Indiana. Evan served as Board Chair for the Coalition 2013-2014. Evan fills his passion for the future of I-69 by serving on the Board of the bi-state coalition, BRIDGELINK, comprised of community leaders from both Indiana and Kentucky focused on the development of a new I-69 bridge connecting the two states. Evan also serves on the Board of Directors of Hoosier Voices for I-69. Evan serves as a member of the Golf Gives Back Board overseeing the annual United Leasing & Finance Championship of the web.com Tour held at Victoria National Golf Club and televised in over 180 countries worldwide on the Golf Channel. Evan is on the Old National Bank Community Advisory Board of Directors – Evansville Region. Evan formerly served on the Board and as an Executive Committee Member for the Southwest Indiana Chamber and is active on several of the Chamber's committees. Evan served as Board Chair for the Chamber 2008-2010.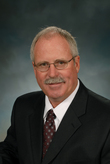 Steve Kahre, Owner and Vice President

812-474-1900 x117

812-499-3166

skahre@woodwardrealty.com

Steve joined Woodward Commercial Realty as Vice President and Owner of Woodward Development and Construction in October 2001, with over 35 years of construction and development experience. Steve previously owned and operated a commercial construction company. Today he manages Woodward Commercial Realty's build-to-suit/lease projects and personnel.